Frapping when you need it fast
Planning is always good. Sometimes, however, a cool glass of wine is spontaneously required and the refrigerator is empty. That's when it pays to know the method of frapping.
Strikingly simple
A warm summer evening and the desire to enjoy it with chilled white wine or rosé. If the bottle you want is not waiting in your refrigerator to be opened, you can chill any bottle, using the method of frappe in a few minutes.
This is how it works:
Fill a wine or champagne cooler with ice cubes and salt: One layer of ice cubes, plenty of salt, one layer of ice cubes, plenty of salt. On it flow cold water and put the bottle.
The addition of salt melts the ice quickly. The cool ice-water-salt mixture manages to chill the contents of a bottle to a comfortable drinking temperature in 4-5 minutes.
Also succeeds with glasses or beer mugs
The method of frapping also succeeds with glasses or beer mugs. However, the frappier water should be rinsed carefully so that the salt is completely removed.
Especially on hot summer days, guests are happy about chilled glasses. A small but welcome gesture from the host.
Spontaneous visit
If there are spontaneous guests at the door on a hot summer day, you can stay cool with the knowledge of frappieren, greet the guests with a bright smile and make an unexpectedly calm impression.
Even without planning the day before, it will only take a few minutes for guests to have a cool glass of white wine, rosé or champagne in hand.
Should always have at home
It pays to always have a large bag of ice cubes on hand in the freezer.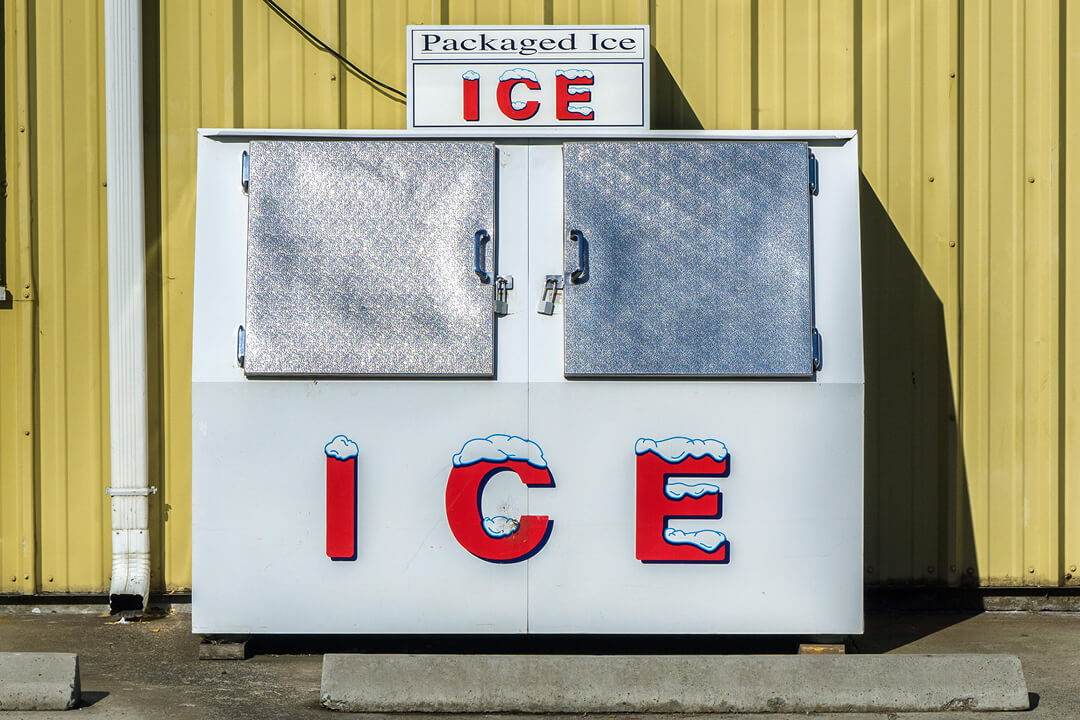 While the ice cube in the drink itself cannot be large enough, as it should melt as slowly as possible to avoid watering down the drink too much, small ice cubes or crushed ice are ideal for the frappe method.
Small ice cubes melt faster than large ones and frapping thus takes only a few minutes. Of course, this does not require the excellent Maldon salt, which gives all dishes a royal saltiness – plain salt is absolutely sufficient.
A sight that always inspires
Drinks frappieren can be in any container that can hold bottles until just before their neck.
However, we advocate investing in a fine wine cooler in classic silver or silver-plated form. Already the sight of the bottle protruding from such a jewel guarantees stylish anticipation.
Antique stores are a good address for noble wine coolers, for example, in decorative Art Nouveau style. And for those who are still working on their wedding gift list and like cool Parisian chic, we recommend taking a look at Christofle's homepage.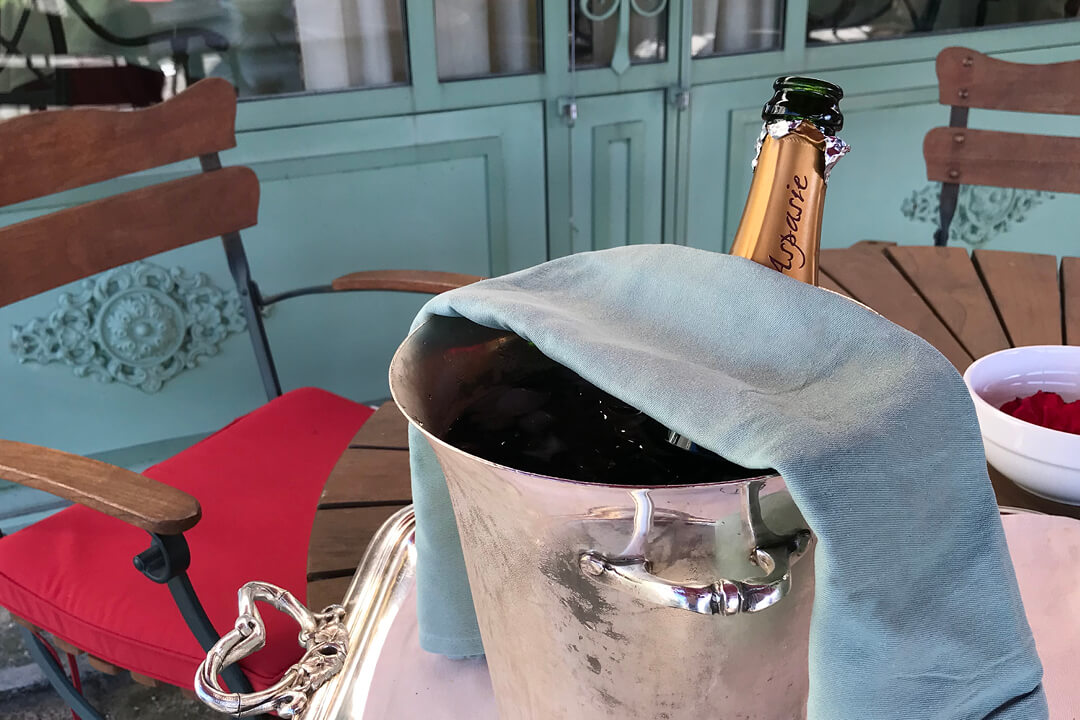 The first look in the restaurant
The sight of a fine champagne cooler, a given in most restaurants in France, is always a reassuring sign that there will be choices in champagne beyond blanc or rosé.
Restaurant owners who invest in such a champagne cooler have usually invested time and love in the content and do not only offer the champagne brands of large houses. Most often, a generous champagne cooler also contains bottles of small, rather unknown winemakers.
We have already made interesting discoveries this way and later visited the small champagne producer or ordered by e-mail.
If you're planning a larger celebration at home, it's worth adding a couple of champagne coolers to your list when ordering dishes, glasses and cutlery from the rental service and strategically placing them around the room and/or garden.
A detailed planning guide for your garden party at home can be found here.
Red wine also likes it cooler in the summer
A good red wine also comes into its own when chilled. Not without reason, professional wine testers say that you can tell the quality of a white wine if it does not have the perfect cool drinking temperature and with red wine only the good ones also pass cooler.
However, red wine only needs to be slightly chilled. Depending on the outside temperature, a frapped glass of red wine is sometimes enough.
Of course, wine cooling also works with professional wine cabinets as well as various apps and gadgets that enable precise pre-tempering. GloriousMe prefers the auspicious clink of ice cubes in a classy wine cooler.
Cafes frape
Kafes frape, or café frappé for short, is what you drink in Greece. Soluble coffee is mixed with water long enough and strong enough to create an attractive foam and served in a tall glass with ice cubes.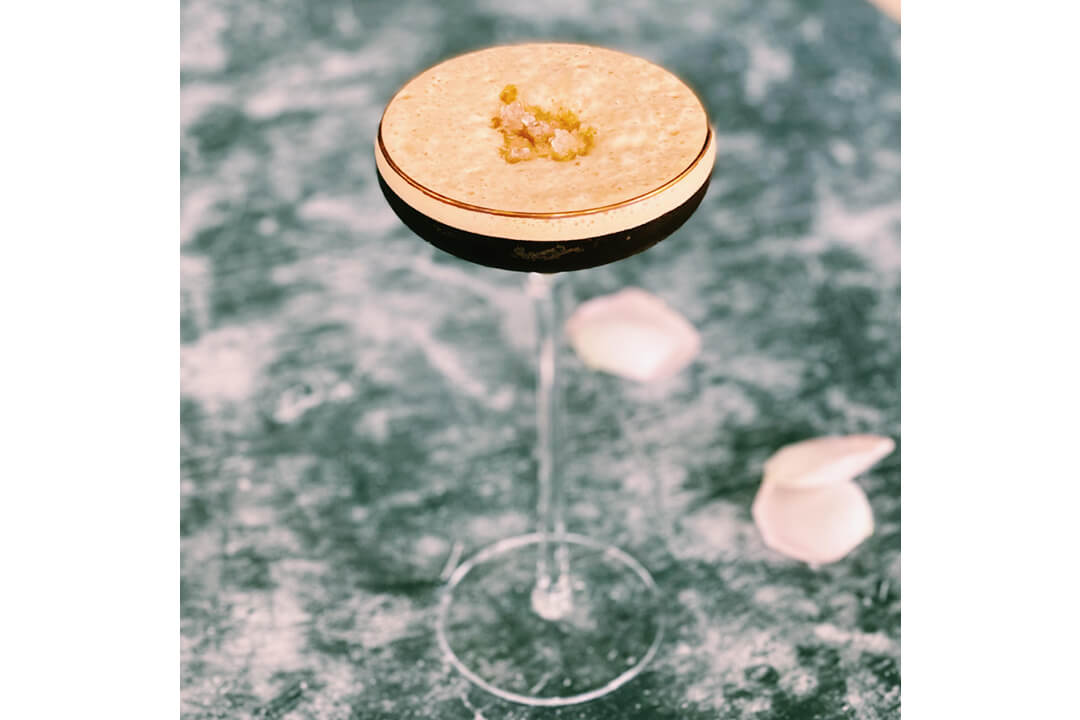 We'll refrain from giving the exact recipe here, because it requires the Greek version of soluble Nescafé, which is spray-dried, unlike the freeze-dried Nescafé varieties in other countries. In this way, the oily fat content is almost completely removed from the coffee, which is horrifying for fragrant lovers but ensures a nice stable foam.
To all those who have planned a summer vacation in wonderful Greece, we congratulate you on your good decision and point out that the variant Kafes frape sketo means without sugar, in the Kafes frape metro one heaping teaspoon of sugar and in the Kafes frape gliko two heaping teaspoons of sugar are to be expected.
To each his frappé
If it also contains vanilla ice cream, cream or even syrup, you have not landed in a traditional kafenion but in a coffee shop or McCafé.
Nothing against their variations, but they contain far more calories compared to kafes frape, which is said to have originated in Greece, but whose variations are also popular in the U.S. and many Asian countries.
The Italian version of Shakerato , on the other hand, uses espresso rather than soluble coffee, of course.
Wherever you happen to be spending these summer days, feel free to raise your glass of frappé rosé to GloriousMe.
Photographs and cover (Christian Kargl) © Alamy Stock Photo | Christofle Silver Chateau de Courcelles © GloriousMe