Swimming pools also for those who have to stay in the home office
No one captured pools and the California sun like David Hockney did in his paintings. The Museum of Art in Lucerne is showing a retroperspective of his work
Swimming pool, lake or both?
Preferences are divided: For some, a bathing lake is the symbol of summer retreat. For others, it is a pool whose water surface glistens auspiciously in the sun, is manageable, and with clear water holds no surprises of plants and animals.
For those who can only dream of the lake or pool at the moment, but are perhaps already looking forward to a trip to Switzerland in the fall, we have a recommendation: the Lucerne Art Museum, in the immediate vicinity of Lake Lucerne, is showing an extensive look at the work of English painter David Hockney.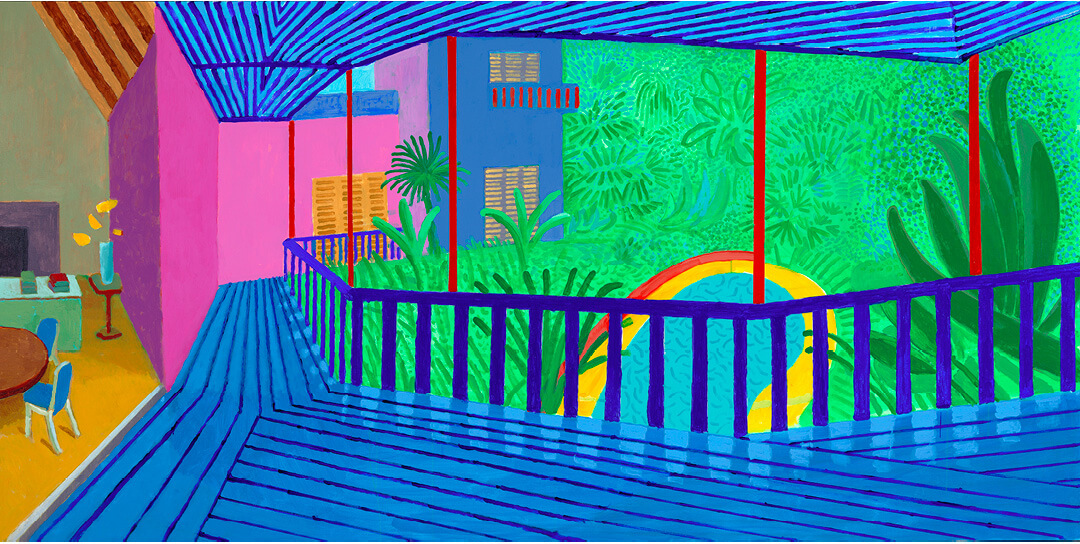 David Hockney, Interior with Blue Terrace and Garden, 2017 Acrylic on canvas, 121.9 × 243.8 cm
© David Hockney, Photo: Richard Schmidt
More than swimming pools
The Pool paintings have made him famous and one of the most important contemporary artists, ranked among the top 100 artists worldwide and among the top 10 in England. Almost everyone knows his only seemingly simple pictures of California pools, which were often copied.
Standing in front of one of David Hockney's original pool paintings, one recognizes the sophisticated play of color and form that irresistibly captures the promise of summer on canvas.
In California, there were 42,123 swimming pools in Los Angeles alone between Hollywood Hills and San Pedro (as of March 2022). The original can be found there on every corner. David Hockney lives and works in California. His paintings have already been shown in 533 exhibitions in the USA alone(source Artfacts).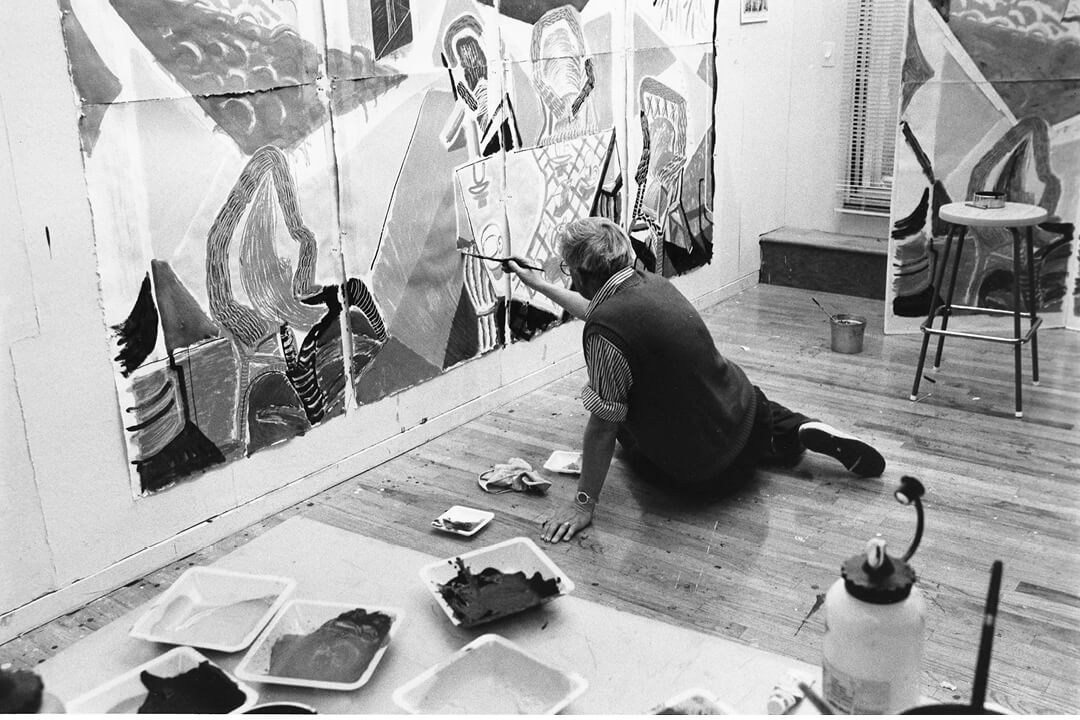 David Hockney painting on a color proof of Caribbean Team Time from the Moving Focus series, Tyler Graphics Ltd. artist's studio, Bedford Village, New York, 1985.
National Gallery of Australia, Canberra, Photo: Kenneth Tyler, Donation Kenneth Tyler 2002
Bradford, the town in West Yorkshire, England, where David Hockney was born in 1937, is home to the Hockney Foundation, established by the artist, which houses more than 9,000 of his works.
Not just a refueling and rest stop
Lovers of classical music love to come to the Concert Hall Lucerne, designed by Jean Novel, known as the KKL for short.
The Lucerne Museum of Art is also located there.
Supported by an art society and with outstanding museum directors at the helm, one of them for many years the charismatic, unconventional Jean-Christophe Ammann, and today Fanni Fetzer, the Museum of Art Lucerne has an outstanding profile, which you can get to know in this interesting video.
The first comprehensive exhibition of important works by David Hockney in Switzerland will be on view there until October 30, 2022. For the retroperspective David Hockney, Moving Fokus, London's Tate, among others, has opened its treasure trove. Loans from many other collections have also made their way to the Museum of Art Lucerne on the Lake.
So it's worth it not only to refuel and rest in Lucerne before continuing on. A visit to the Museum of Art Lucerne is refreshing in many ways.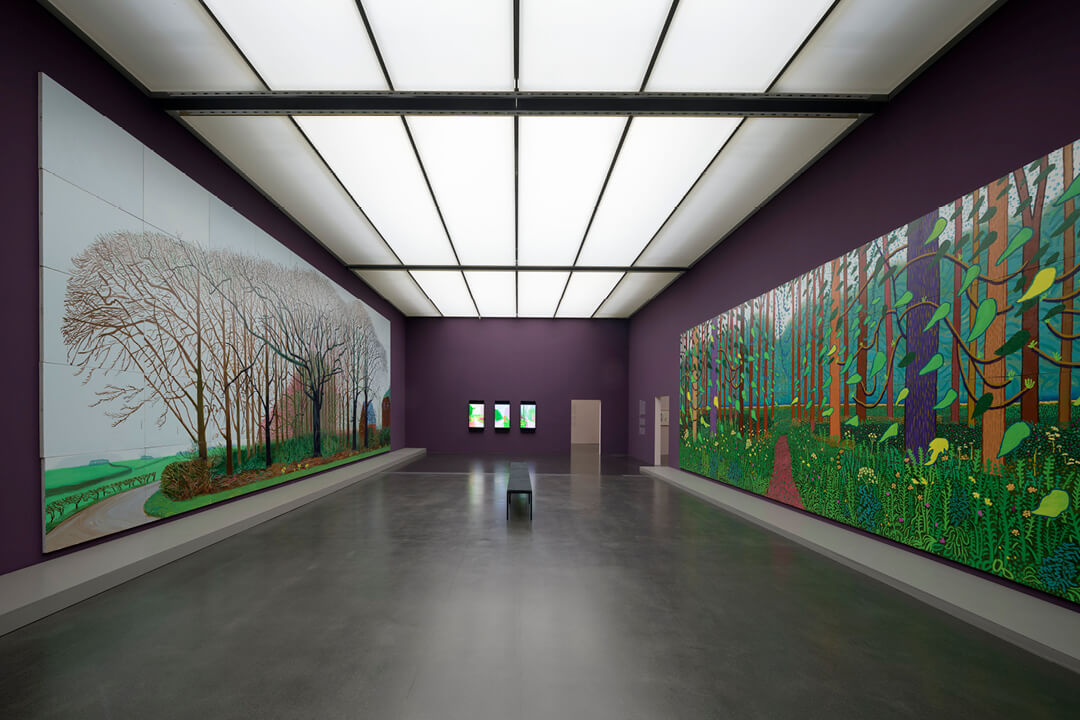 Exhibition view David Hockney, Moving Focus, Museum of Art Lucerne, 2022, Photo: Marc Latzel
The exhibition shows the range and continuous development of the artist: the excellent portraits, the impressive landscapes and a series of works that David Hockney has made (with great enthusiasm for the technology) on the iPad .
His monumental landscape painting "Bigger Trees Near Warter Or", consisting of 50 canvases and over 12 meters long, which was first presented at the Royal Academy of Art in London in 2007, is also currently on view in Lucerne.
Opera fans also know David Hockney as a designer of stage sets. Music enthusiast David Hockney, here's his Spotify list, has designed the sets for several operas.
At the opera house in Glyndebourne, his stage design for Igor Stravinsky's opera The Rake's Progress was an important part of the production. You can see the set here and enjoy it along with the wonderful aria "Gently little boat".
Home office instead of swimming lake
For all those who already have their vacation behind them and are in the Home Office of bathing lakes like the Davos Munts in whose kiosk not only currywurst and frites but risotto with Oberriedner summer truffles are served, we have another gift idea: The Catalog to the David Hockney exhibition is a nice gift and comfort for art lovers who can't make it to Lucerne.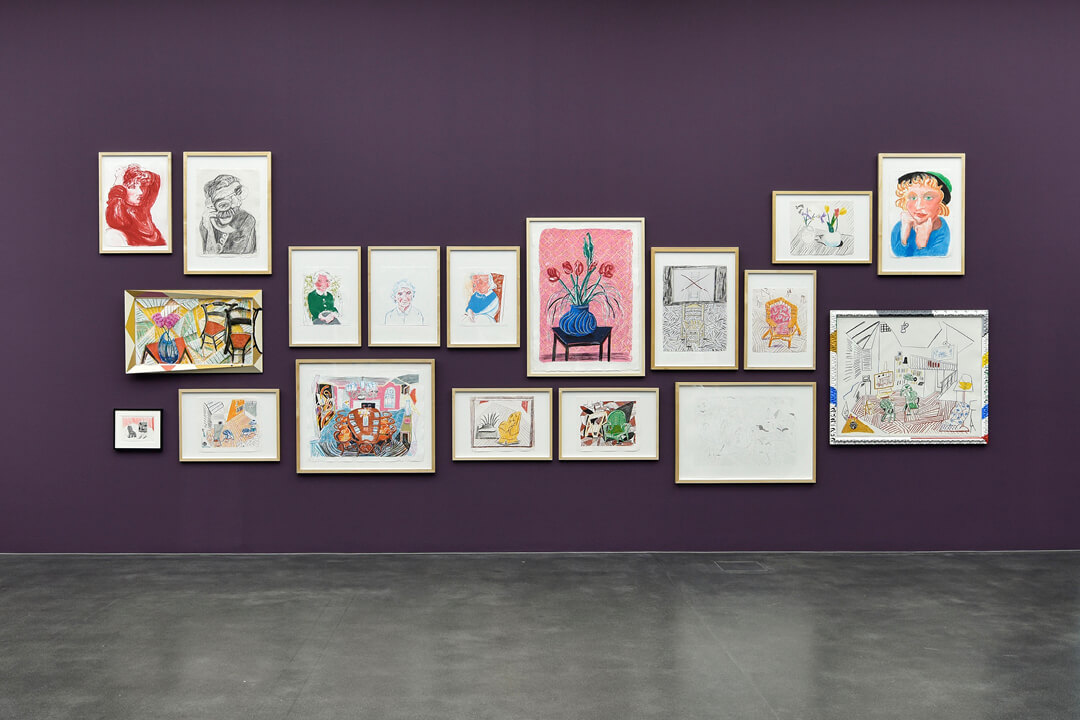 Exhibition view David Hockney, Moving Focus, Museum of Art Lucerne, 2022, Photo: Marc Latzel
In the exhibition catalog, one still has an unobstructed view of the glittering water surface of the swimming pools in California.
There, the governor currently strongly recommends that all swimming pools be covered when not in use to reduce water evaporation due to water scarcity and the need to conserve potable water.
No bigger splash any longer…
Cover: David Hockney, California Copied from 1965 Painting in 1987, Acrylic on canvas, 152.1 × 182.6 cm
Los Angeles County Museum of Art, donation of the artist, © David Hockney