It may also be beautiful
Let us seduce you to see seemingly mundane products for body cleansing, beauty and relaxation in a new old context and indulge in visual pleasure
The charm of former pharmacies
Pharmacies and specialty drugstores today usually look functional and sober. The beautiful old furnishings have long since been auctioned off, are now in restaurants and private homes, or in the worst case ended up in the bulky waste.
Entering a traditional pharmacy, usually with a lot of wood, carefully hand-labeled apothecary bottles and faience in which herbs were stored, one immediately felt the tradition of this important guild and the knowledge of the healing power of nature.
The traditional specialist druggist still appeared in a white coat.
Today, we order medications online or try to assess the ingredients on product packaging in the drugstore with the help of several apps.
Due to time constraints, we often give up in frustration and hope that at least some of the promises are true and that there is nothing in the product that could prove to be a ticking time bomb for years to come.
The atmosphere of many health food stores is also not to everyone's liking.
Conclusion: a sober, unappealing environment for purchasing what is supposed to support us in physical culture.
One step back
Traditional specialty drugstores and pharmacies were proud to produce their own products that healed and beautified. Some pharmacies, especially in monasteries, had an extensive apothecary garden.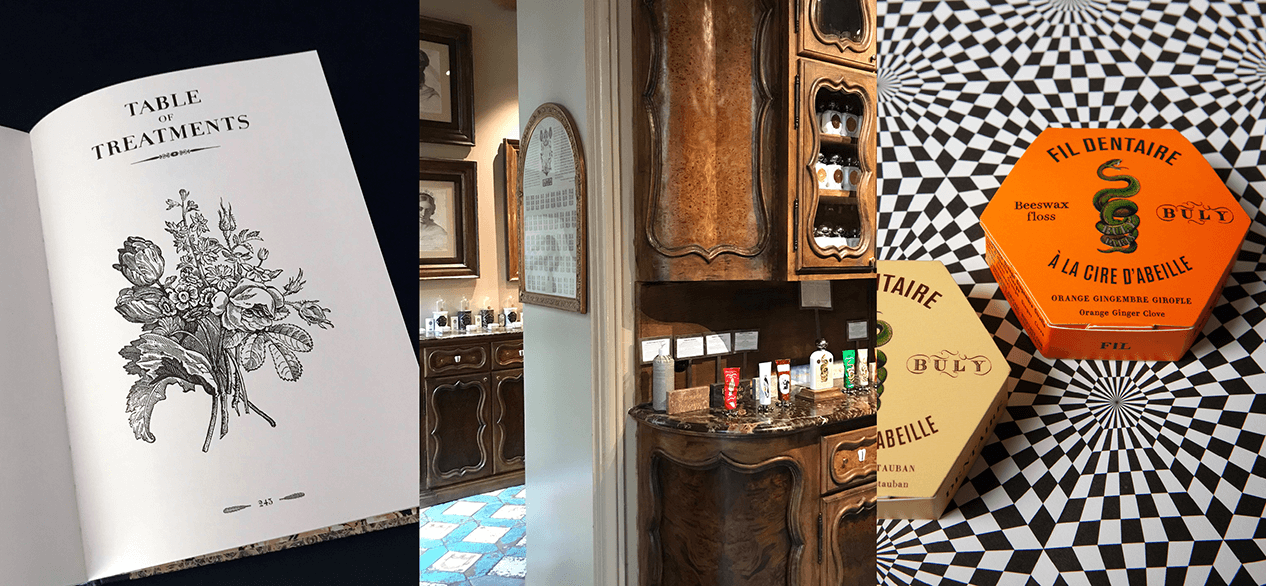 Pharmacy was a place that used many natural raw materials. In the 18th century, such a traditional pharmacy was opened by Jean-Vincent Buly in Rue Saint-Honoré in Paris.
Like many of these traditional pharmacies or specialty drugstores, Buly fell into a slumber, but was brought back to life by Victoire de Taillac and her husband Ramdane Touhami, with an unerring sense of tradition and a desire for modern natural ingredients.
And at the same time many steps forward
The old store no longer exists, but the new owners have created fascinating stores in Paris, Kyoto, London, Séoul and Osaka, where time seems to have stood still in terms of furnishings.
Attractive products are offered there that satisfy our ever-increasing longing for naturalness and quality.
Well-being, beauty and aesthetics are not measurable
The pleasure of a comb made of a natural material, which can be carried around the world for years, protected by a small bag, and which triggers well-being with every stroke through the hair, is not measurable. We've been feeling it for years.
The feeling of relaxing in a bathtub with hot water and a good bath salt is hard to describe. You certainly know it.
The sensory pleasure of lighting a nice scented candle to write Christmas cards is unquantifiable. You may be experiencing it yourself right now on these dark winter nights.
Regular cleaning of teeth with dental floss gives the well-being of good dental hygiene. The dental floss in the fantastically designed packaging of Buly 1803 is also a treat for the eyes and thus does not disappear in the last corner of a drawer in the bathroom but is used gladly and often.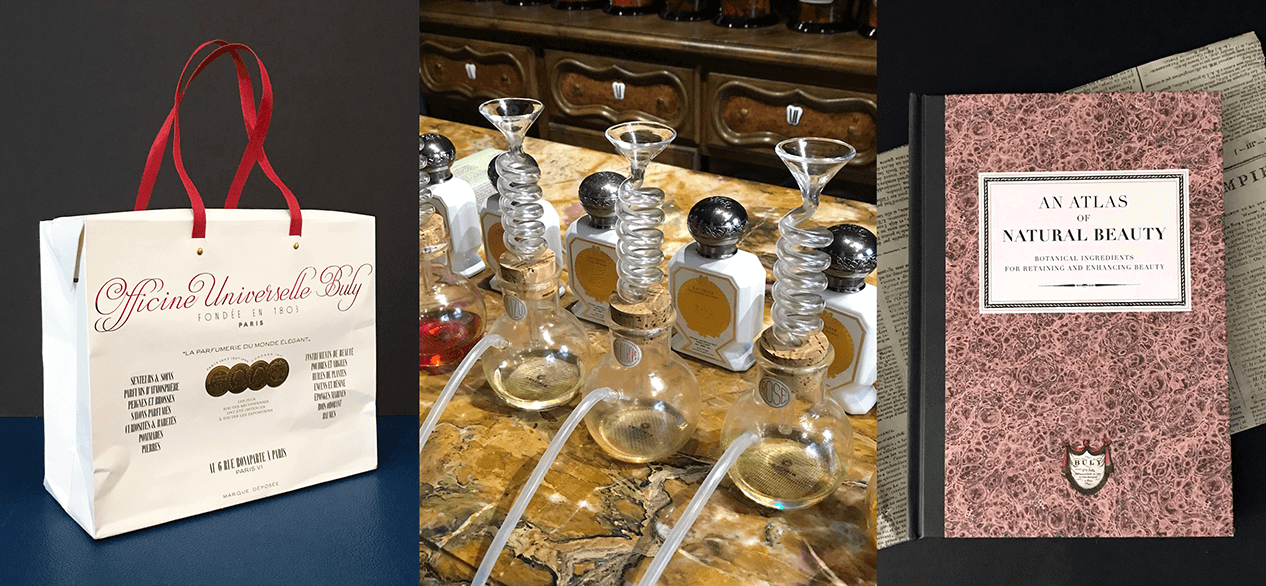 The world of Buly
In Buly 1803's aesthetic, there is no garish screaming packaging and you've escaped harsh functionality for a little downtime.
Of course, a simple match is enough to light the candles on the Advent wreath. The scented woods from Buly 1803 already make the lighting of the candles a fragrance experience: Cedar instead of sulfur smell.
It is not only the aesthetics that fascinate us about Buly 1803
The products and packaging are predominantly free of plastic and chemical additives. Many products are produced in Europe.
Buly 1803's original packaging revels in ornamentation, features unusual colors, and sophisticated typography is still writ large here.
The products, on the other hand, are reduced to the essential ingredients.
Optionally, you can also get basic products, such as different clays and essential oils, and use them to make masks that do not contain preservatives, dyes, perfume, etc. You know what you're touching.
The Atlas of Natural Beauty
And which herbs, plants and the essential oil extracted from them has what effect? Buly answered this question in 1803 with the Atlas of Natural Beauty.
The atlas is a small typographical masterpiece in book form, listing plants and herbs in alphabetical order, as well as describing their countries of origin and beneficial properties for body and beauty.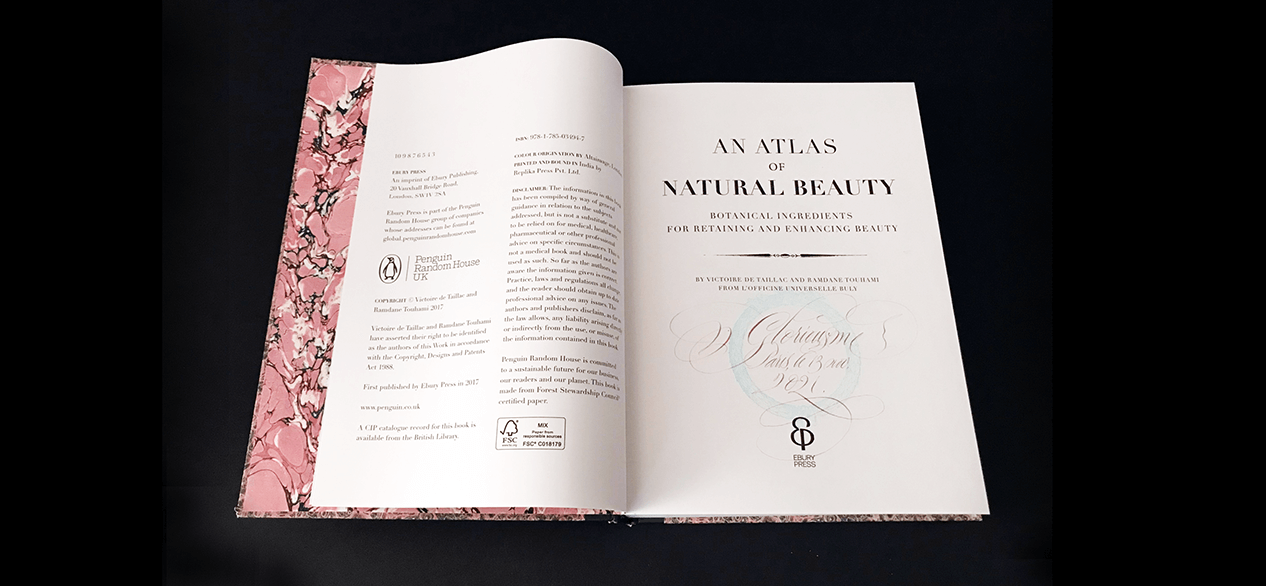 If you read the English edition (An Atlas Of Natural Beauty), you will learn quite a bit about plants and medicinal herbs, arranged alphabetically (from Acai to Witch Hazel). Some plants you certainly already know, others you get to know new.
For each plant you can read how the respective essential oil is obtained and how to use the extract. For example, as an aid to better sleep or to support natural beauty.
The ideal gift for friends or family members who have an interest in these topics and whom you want to please with a gift that will last for years.
Basically, this atlas is the most beautiful advertising print we have seen so far. All plants are lovingly illustrated and all ingredients for the wellness lab at home, can be ordered online at Buly 1803.
There is nothing new under the sun
Knowledge about the healing power of plants has existed for thousands of years. It is therefore not uncommon for plants to quote Hildegard von Bingen or, in the case of roses, from the ancient writings of former Persia.
We will certainly not try out all the applications. However, while reading, we became aware once again in many places of the treasures that nature has in store to support beauty and well-being in a natural way.
And if just one or two things are added to the everyday repertoire, that's a big, positive step.
Reading it makes us aware of what we are missing or what has become rare. When was the last time you saw the bright blue cornflowers in a field or at the edge of a field?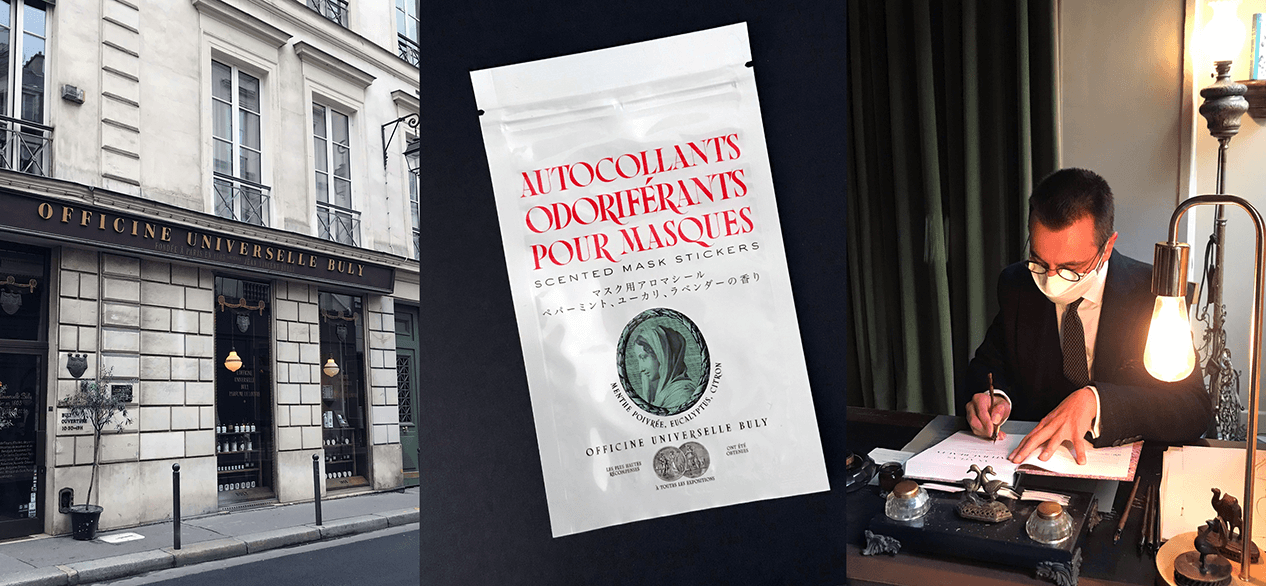 The calligrapher of Buly 1803 personalizes the book
We had our Atlas of Natural Beauty personalized with our name GloriousMe at the Buly 1803 store in Paris.
You can also order personalization of the book or initials for many other gifts, such as combs, online.
Buly 1803 is an outstanding example of stationary retail as part of culture.
And when travel becomes possible again without looking at incidences, you may want to add Buly 1803's stores in cities like Osaka or Paris to your sightseeing list, or stop by Officina Profumo-Farmaceutica di Santa Maria Novella in Florence.
Old pharmacies in monasteries or the inner cities of metropolises have just become salesrooms and museums.
#Advertising #UndependentGMEm Recommendation #BecauseWeLoveIt
Photo collages © GloriousMe