Off the ground? No, a happy union
Hardly any marketing has worked as well worldwide as the positioning of champagne. At this drink everyone immediately thinks of celebration and luxury. Thereby it is the simple, rather hearty dishes that benefit from champagne in cooking, according to the landscape from which it comes.
Rough and unspectacular
If you drive through the wine-growing areas of France that belong to the classified areas where champagne is produced and may be called so, such as Champagne-Ardenne, Marne, Aube and some others, you will experience a plain, unspectacular landscape and an agricultural region.
In the current climate still one of the most northern wine-growing areas, a rough wind blows there in winter and spring through the gray, slightly undulating, rather rough landscape. Almost unreal, a noble fence and a well renovated mansion representing one of the bigger champagne brands appear from time to time and appear in the otherwise plain area, rather unreal.
Even if some noble hotels and restaurants have developed in the region in recent years, the home of champagne is far removed in its character from places like Paris or St. Tropez, which are associated with luxury.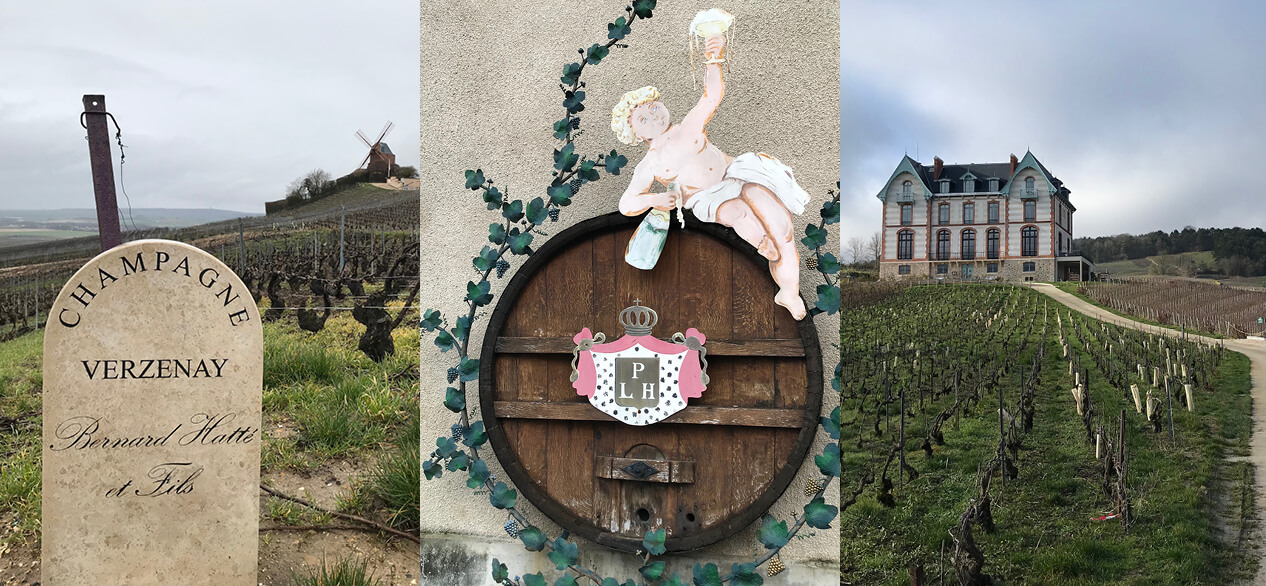 The contrasts make the charm
The cuisine of the landscapes from which the champagne comes is hearty and hearty. With the champagne aperitif, small slices of andoilettes (a sausage made from offal) are served here on toast instead of caviar or another luxury product of upscale cuisine.
The most famous dish that uses champagne in the cooking pot is champagne sauerkraut, which has a long tradition in Alsace, whose landscape is not unlike Champagne.
In Alsace, the champagne sauerkraut is often served with pike perch but other fish. Earthy soups, such as potato soup, also benefit from champagne in the crock pot.
In these dishes, the addition of champagne, with its flavor and sparkling acidity, is not decadence but a happy combination. The simple basic ingredients experience a tasty rounding with the elegant character of the champagne.
Better on Monday than Sunday
There is nothing wrong with champagne on festive days, but from our point of view, champagne is more of a treat on a normal day. Festivities and special days are sometimes associated with so much expectation, adrenaline and other culinary highlights that champagne is easily drowned in it.
A glass of champagne, enjoyed on an unspectacular day, simply because it went well, or because the went badly, or simply out of gratitude because it went, often means a much greater pleasure.
Refreshment after the Lawn mower
We are not alone in this. Philippe Bourguignon, voted France's best sommelier a few years ago and a French authority on wine enjoyment, writes in his classic L'Accor parfait, a wonderful book that recommends the ideal pairing of wines and dishes based on wine and its regional origins:
"Champagne is more refreshing than beer. In summer, after mowing the lawn or after a long mountain hike, a glass of champagne gives you a wonderful moment. Then, I confess, I push my depravity even further and add an ice cube.
True, that is ungodly. And in Champagne they will condemn me for it, but nothing is so refreshing! I have been cultivating this habit since the scorching hot summer of 1976. By chance, I had entered the rooms of an old Parisian cellar master in the Rue des Abesses.
There, a couple of old gentlemen sat around a table sipping their champagne with an ice cube in their glass. Since then, I do the same when I'm very thirsty and I think of her."
Admittedly, ordering a glass of champagne in epicurean France is easy because it is usually relatively inexpensive and possible in any village pub.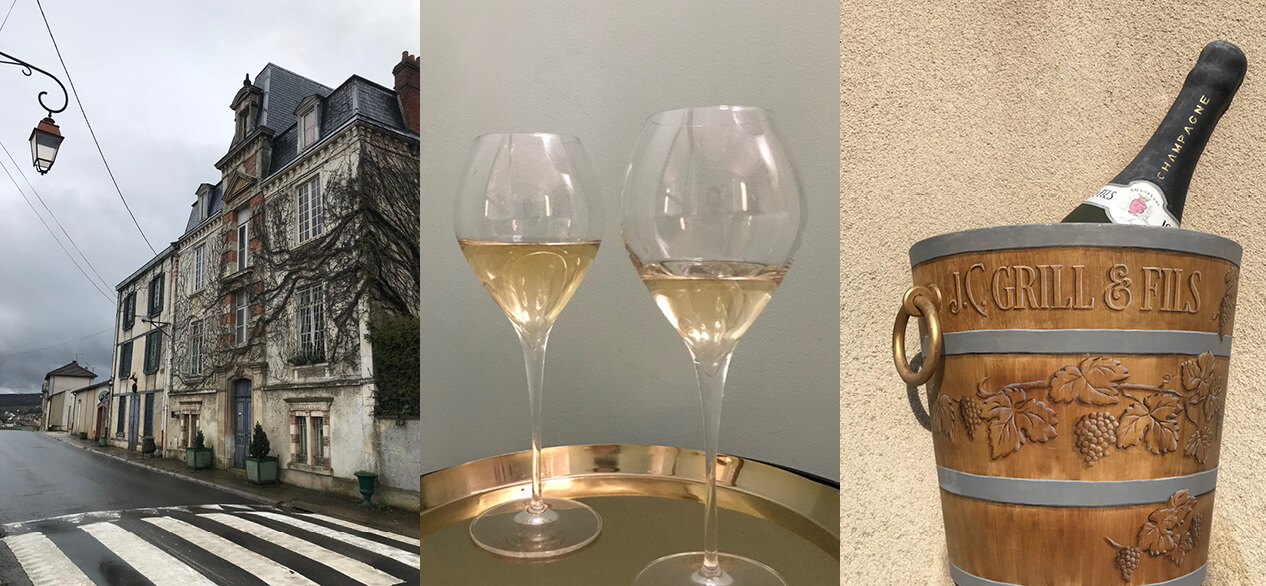 Delicious use of leftovers
Since we don't all live in France, there's a lot to be said for putting the remaining champagne to enjoyable leftover use on those ordinary days when you just want to have a drink or after a party where an opened bottle of champagne was left over.
One of our favorite uses of champagne in the crock pot is champagne sauerkraut. The time-honored sauerkraut is suddenly on many people's lips again due to the new enthusiasm for fermented foods. It's worth buying a little more right away and snacking on it already raw to get the many nutrients that sauerkraut has to offer.
Champagne sauerkraut
An important note up front: sauerkraut purchased at the market from the greengrocer or supermarket often has varying degrees of fermentation, from raw to slightly or more fermented. Accordingly, the salt content is also different.
Therefore, please be careful with the addition of salt during preparation. Cooking times also vary, depending on the degree of fermentation. We prepare the GloriousMe recipe with vacuum-packed, already slightly fermented sauerkraut from the greengrocer. If you use the herb in its raw state, you will need longer cooking times.
Just give it a try. It tastes delicious and goes well with many kinds of fish, liver dumplings or in the vegetarian version with spinach dumplings and much more.
Ingredients for 4 people
About 750 grams of sauerkraut
1 medium onion
1 tablespoon olive oil
200 ml champagne
200 ml broth (depending on your taste, vegetable broth, beef broth, chicken broth)
100 grams (pieces of a wide slice) of streaky bacon
4 allspice grains
2 juniper berries
1 bay leaf
3 tablespoons applesauce
1 tablespoon butter
Salt, pepper
1 pinch sugar
Cut the onions into small pieces. Heat the oil in a saucepan and sauté the onion until translucent.
Add the sauerkraut to the pot and sauté briefly. Deglaze with the champagne and boil down briefly.
In the non-vegetarian version, place the slice of streaky bacon and a teabag with the herbs on the cabbage. (The tea bag contains the allspice seeds, the slightly pressed juniper berries and the bay leaf).
Pour the sauerkraut with the broth and then be sure to close the pot with a lid so that the flavors can develop well in the steam.
Continue cooking the cabbage over very mild heat for about 20 min. Then remove the bacon and the teabag with the herbs and mix the applesauce and butter into the sauerkraut. Season with salt, a pinch of sugar and pepper and cook for a few more minutes. Done.
The next day
If there is any left over from the champagne sauerkraut, it can be turned into a delicious soup within minutes the next day. Simply liquefy the cabbage with broth, add liquid cream and plenty of caraway seeds, and if there is also a liver dumpling left over from the day before, it fits perfectly into the soup in strip form.
Cut bread with a nice crust into small cubes and toast in a pan with a little butter. Just before the end of roasting, add a chopped onion and some garlic.
Place the bread cubes on the bottom of the soup plate and pour the sauerkraut soup on top. If you want, sprinkle chopped chives on top.
Lea Linster likes potato soup with champagne
The ingenious Lea Linster from Luxembourg, where one would never refuse a glass of champagne amiably, pours champagne into the potato soup, which in her case comes to the table in foamed form.
GloriousMe loves lemon ice cream with champagne
Champagne is often served as a highlight with dessert. Naturellement. Champagne can be enjoyed throughout an entire menu. Only dishes that are very strongly spiced, for example curry dishes, do not harmonize with champagne, a beer or tea fits better.
If one is planning a sweet, creamy finish for dessert, then Brut Champagne is not suitable as an accompaniment. In that case, the pleasures do not complement and enhance each other, but rather neutralize each other. For such a dessert finish, an iced ice wine, such as a Rieslaner, is a far better choice.
Champagne with dessert is optimal when it becomes rather fruity, acidic. You can combine the fruity taste very well directly with the champagne:
Lemon ice cream with champagne and pomegranate
Ingredients
Lemon ice cream or lemon sorbet (even better with ginger pieces)
Champagne
Juice of one pomegranate
Preparation
In a tall glass that widens to the top, think martini for example, pour in about 1 cm of pomegranate juice in the bottom tip. Top with a generous scoop of lemon ice cream. Top with champagne and serve immediately.
Especially if the menu was very rich before, this tart finish makes everyone happy and can be prepared in minutes.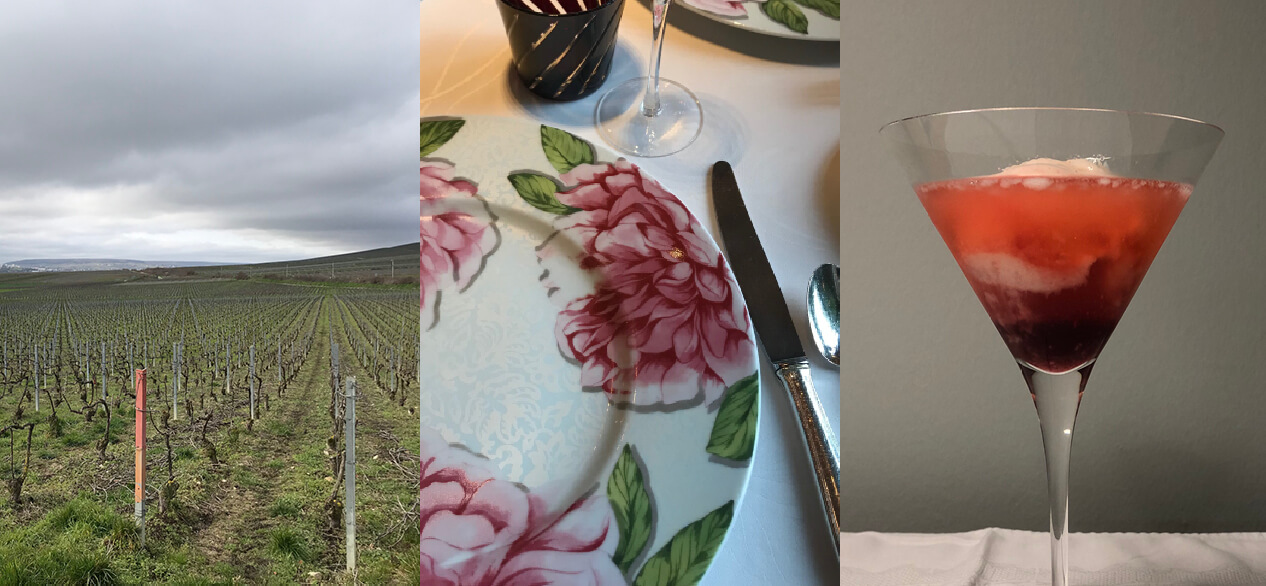 Why do we love champagne so much that when asked what GloriousMe is all about, we answer: charisma, calcium and champagne.
Quite simple. We have a clear head after drinking champagne the next day. That's how it is for many people.
Therefore, we have sought out small winemakers who produce exactly the champagne we love. The prices there are not to be compared with the big brands, where a large marketing effort must also be calculated in.
In the smaller houses, champagne prices are comparable to the prices of a good wine. And according to the advice of good cooks, you should pour into the cooking pot only the wines and champagne that you would drink.
These extraordinary Christmases may make us appreciate the simple and the special things even more. With this in mind, we hope you enjoy cooking with champagne. And if you'd like to know more about serving champagne, here's more indulgence with a story.